Check out our Design Guidelines page for more information on setting up your files for laser cutting.
To manufacture your parts as fast as possible, please make sure your files meet our guidelines. The better the file, the better the parts!
---
File Formats
Files Accepted Automatically:

We only accept vector files for the laser. We currently accept AI, EPS, DWG and DXF (more coming soon) in our automatic online quoter. If you design your parts in Adobe Illustrator, please send us the original (native) ai file. We'll take care of the conversion on our end.
Files Accepted for Custom Quote:

We'll gladly accept raster (JPEG, PNG, TIFF) and SVG files, but these are not eligible for automatic quoting. Keep in mind that we cannot guarantee accuracy in these file types. SVG files are known to have scaling issues, and we highly recommend exporting these as EPS files. We can also accept STEP files from common CAD programs such as Solidworks. Please note that we cannot accept or process STL (mesh) files. For all filetypes named above, please request a custom quote and we'll get back to you right away.
Convert a Raster File to a Vector File
We have tutorials to help you convert your art to vector in Adobe Illustrator and Inkscape. You can also contact us and we'll convert it for you for a small fee.
---
File Requirements
We're here to help you every step of the way in designing your laser-cut parts. Here are some things to keep in mind:
Artwork should be correctly scaled
Your art should be sent to us at the exact size you want it cut (1:1 scale). We will not adjust your design based on dimensions in the drawing, they are ignored by our system. Also, we prefer to work in Imperial Units (inches) when possible, but we handle metric scaling too.
If you've converted your file from raster, please be sure to verify dimensions. Printing your design at 100% scale may help you confirm dimensions and scale.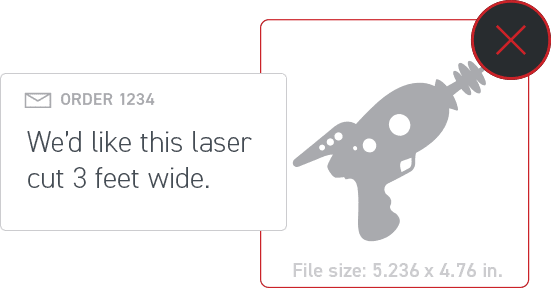 ---
Files should only contain your parts/cut-paths
To save time (and possibly money), be sure to remove any instructions, dimensions, notes, borders and unused objects from your file. You should only be sending us the actual cut-path. Notes, quantities, etc. can be noted on your order. We'll contact you right away if we have more questions.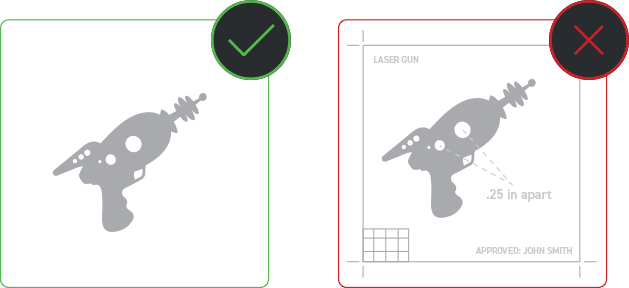 ---
Files should not contain multiples of one part
We will arrange your parts in a way that maximizes efficiency and reduces material waste. This process is known as "nesting". Designers are often tempted to "pre-nest" their design, thinking that it will speed up the production process. However, this is more likely to complicate the cut and impede our process. If you want to cut multiple copies of a single object, don't crowd your design, just upload a drawing with a single part and adjust the quantity in your cart.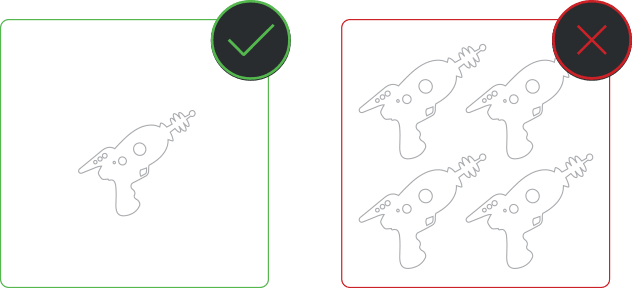 Have different parts to be cut from the same metal?
Always leave a safe amount of room between parts. 1.5x metal thickness is a good rule of thumb. For example, in .125″ thickness material, you'll want to space the parts about .187″ from each other.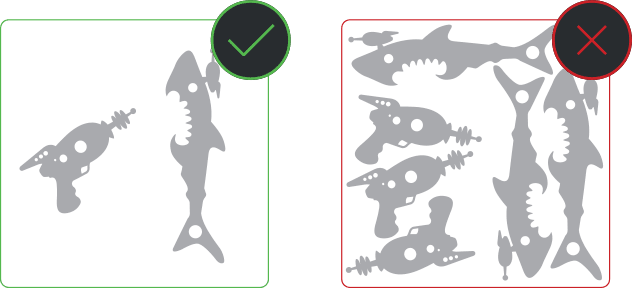 ---
All text has been converted to shapes/outlines.
If your vector design has any "active" text boxes, the CNC laser machine won't be able to process the cut properly. To include text in your cut, simply convert active text boxes into shapes or outlines, a process that is extremely easy to do in most design software.
Not sure if you have any active text boxes? Hover your cursor over the text, and if it is editable as text, then it needs to be converted into a shape.

---
Shapes and fonts/type have been stencilized or connected with "bridges"

In the example below, all the shapes marked in red on the right will be lost because they are not connected to the outer shape. You can remedy this by creating "bridges" like you see on the example on the left. When possible, think about your design as a stencil. This will reduce the number of "loose" pieces that would need to be considered during installation.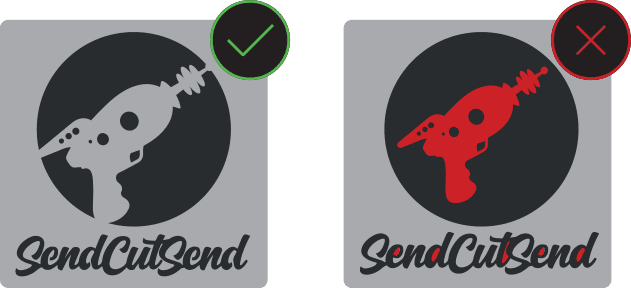 Check out our tutorials on creating bridges:
CREATING BRIDGES FOR NESTED SHAPES
---
No shapes or cutouts are smaller than 1x – 1.5x material thickness
Holes or interior geometry that are smaller than the thickness of your material are unlikely to be cut accurately by the laser. This is because the laser "pierces" the material to begin cutting, which requires a certain diameter allowance for holes and other internal shapes. As an example, if your material is 0.1" thick, the smallest hole you could expect to cut would be 0.1" in diameter. A safe rule of thumb would be to keep all geometry greater than 1.5x material thickness.

In the example below the red circles would be too small to cut correctly.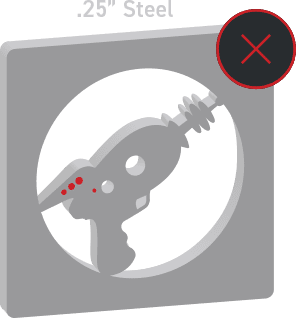 ---
There are no intersecting or common lines

Check your design to make sure no two parts are touching or sharing a line. Be sure that no lines overlap or intersect with each other. The laser will not interpret these lines. View your part as outlines to quickly spot these issues.
OVERLAPPING/CONNECTED LINES AND SHAPES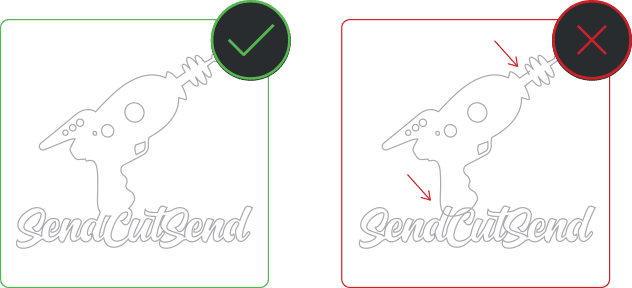 Your file contains no empty objects or open contours.
Open contours is a fancy way of saying your shape is not connected all the way around. The laser will follow the path of your shape. If it stops, so does the laser. Viewing your art as outlines is a quick and easy way to find these.
FINDING AND FIXING OPEN CONTOURS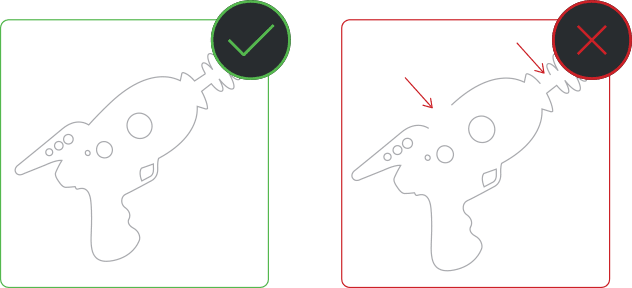 ---
Sign Design
Before designing your first sign, think about the installation. A little pre-planning can save you a lot of time in the end. Here are three basic sign styles.
Negative Design
EASY INSTALLATION
By negative design, we mean your type and logo are reversed out of a shape. In the example below you can see our logo and tag line reversed out of a rectangle. The key to this design is the bridged letters and shapes as mentioned above. This sign will be very easy to install as there is one one part.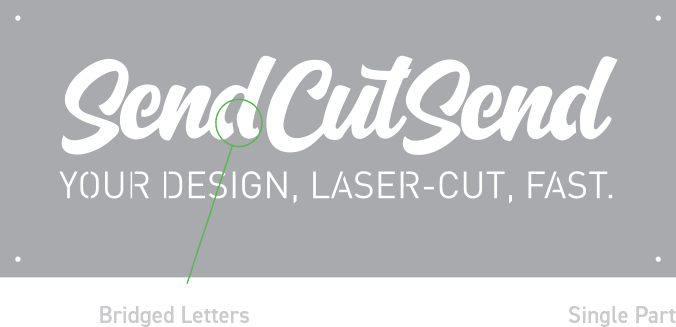 Underline Design
MEDIUM INSTALLATION
If you"re really wanting a positive design, you can make your life a little easier by connecting shapes and letters using an underline like our second example. The installation is a little more difficult as you will now need to line up two separate pieces.

Positive Design
HARD INSTALLATION
Sometimes we want what we want. And sometimes what we want is separate letters for our design. In this example you'll see that we have a LOT of separate parts to line up. If you decide to go this route, we recommend making a paper template to use as a guide.

---
How our pricing works
Here's a few pricing guidelines to consider when designing your parts.
Minimum Fee
We have a minimum order fee of $29. This fee helps us cover setup and programing time, material loading, waste material, and shipping. Once the $29 minimum is reached, you only pay for the price of each part. For example, a single $2 part would end up being $29 at checkout. However, if you ordered 20 parts at $2 each, your total would be $40 at checkout (including shipping). We offer significant quantity discounts as well. Pricing is updated live in your shopping cart.
Metal Type and Thickness
We offer a variety of metals in multiple thicknesses. To learn more about what we offer, please see our Metals page. The thicker the metal, the more it will cost.
Commodity metals such as copper and brass will vary based on current market conditions. Titanium is very expensive to produce, which drives up the raw material cost.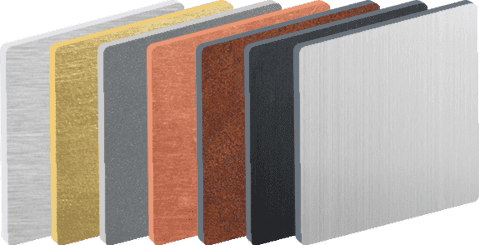 Overall part size (up to 47″ x 118″)
The size of your part is calculated by the overall width and height of your part. You'll see your exact dimensions when you upload. We can cut single parts up to 47″ x 118″. Need something larger? Contact us at support@sendcutsend.com for a custom quote.
Design Density
Design density refers to the overall amount of cutting, per square-inch in your design. The more detailed and intricate, the longer it will take for the laser to cut. Increased density will increase part cost.

---
What to expect
Your parts will be shipped securely to prevent damage during transit. Keep in mind that we allow for some "padding" around the edge of the part to minimize corner damage. If the box appears damaged, please open it to inspect the parts. Sometimes a box may look damaged, but the parts are intact. You do not need to refuse the package with the carrier.
We cut the majority of our metals using high-purity nitrogen to obtain a clean edge on parts (little to no oxidation). However, for steel thicker than .135″, and all thicknesses of copper and brass, we use may use oxygen as an assist gas. This will result in some oxidation on the cut surface. Before you paint, weld, or plate your parts, you will need to remove that oxidation. This can be done easily using a chemical process (muriatic acid), or mechanical methods such as a wire brush or rotary tumbler.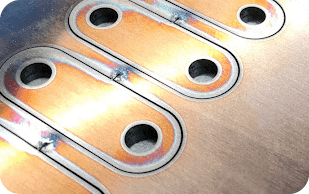 Laser-cut copper showing heat discoloration
Some laser-cut metals will have a bit of dross (burr) on the underside of your part(s). This is a normal occurrence from the cutting process. Due to manufacturing variables, your parts may also have small cosmetic imperfections/scratches. If you require a cosmetically-perfect finish, additional processing is available for a fee. Contact us at support@sendcutsend.com or make a note on your order to discuss options.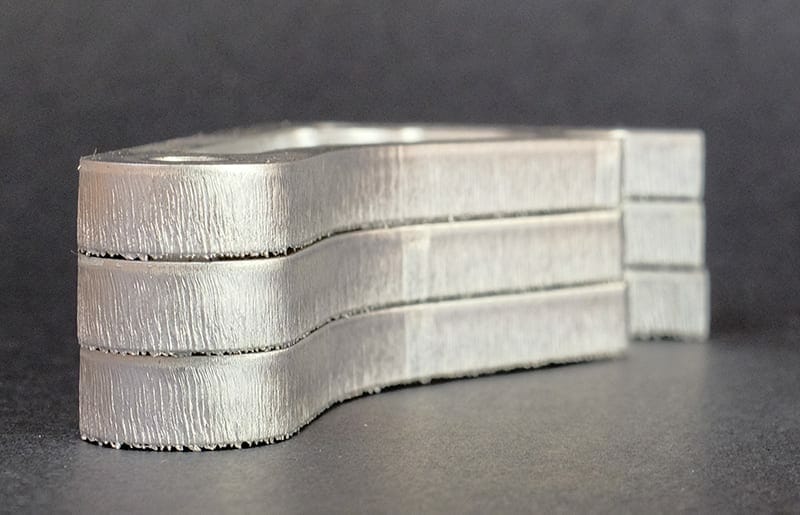 Aluminum parts with a small amount of burr from the cutting process
Software Specific Tutorials
If you need software specific help for designing, check out one of the tutorials below. We'll add more tutorials soon.
Other services and add-ons
Etching
We offer etching, however this process is still in beta. Etching is available for runs of 20 or more parts. Contact us at support@sendcutsend.com laser-etching pricing and capabilities.
Cosmetic finishing
We offer custom finishing options for an additional fee. Hanging your sign right away? Creating a gift for someone? No problem. Just let us know at checkout and we'll contact you for details.
Overnight/Rush Processing and Shipping
We're pretty quick, but if you absolutely need your parts faster, we do offer an Overnight option. To guarantee you receive your parts the next day, your order must be a metal we currently have in stock, and your order must be placed before noon PST. Contact us at support@sendcutsend.com for availability
Before you go…
Go over this checklist once last time before sending your first file:
File is a two-dimensional vector format file. If you're designing in Adobe Illustrator, please send us your original .ai file.
File is built at a 1:1 scale, preferably in inch-units
All text has been converted to outlines or paths
Reversed text has bridges or has been stencilized
All stray points, duplicate lines, empty objects and text areas have been removed
No shapes have open contours
All shapes have been united, combined or merged
All objects are on the same layer
All holes and cutouts are at least 1.5x material thickness